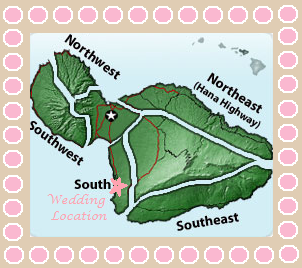 Where to stay on Maui? That's a good question if you're planning a visit to the Valley Isle. Maui is divided into a couple of areas where the major accommodations are located, though as a whole the island offers a large range of accommodations, from budget hotels to condominiums - 5-star hotels to bed and breakfasts. Many of the major beach resorts are along the south west coast near Ka`anapali. A few major resorts also exist in south Maui, especially in Wailea. This includes the wedding location at the Grand Wailea Resort. In either of these locations you're bound to find beautiful beaches and good weather no matter where you look. In south Maui, Kihei is also a popular place to stay, boasting a wide assortment of condominiums in the area.
Southwest Coast (including Lahaina, Kaanapali, and Kapalua)



Great weather throughout the year!


Great selection of beaches available.


Great variety of stores and shops.

Can be quite touristy in most locations.

Can be very crowded, especially during the holidays.

Can be rather far from the Hana Highway and Haleakala.
South Coast (including Kihei and Wailea)



Great weather year-round!


A lot of cheaper accommodation rentals.


Decent selection of beaches over much of the coastline.

Not as much shopping available, just small stores.

Not as many upscale restaurant options available.

Can be rather far from the Hana Highway and Haleakala.

Northeast Coast (including Hana and near the Oheo Gulch)



Great proximity to the sights of the Hana Highway and Oheo Gulch.


Small, but beautiful, variety of beaches.

Can be very wet, especially during the winter.

Is geographically very isolated, a great distance from all other attractions.

Central Maui (including Lahaina and Paia)



Decent variety of shops available.


Great proximity to most of the island, including the Hana Highway.

Limited accommodations are present in these areas.

Paia can experience a good bit of rain.

Not very scenic in most of central Maui.

Limited selection of beaches.

Upcountry Maui (including Kula)



Great scenery and proximity to Haleakala

Lack of accommodation options.

Very limited variety of stores or restaurants.

No beaches.
Suggested Accomodation Locations:

Wailea
The Grand Wailea
www.grandwailea.com/
Hotel Wailea
www.hotelwailea.com/

Kaanapali
Honua Kai Resort and Spa
www.honuakaimaui.com/
Hyatt Regency Maui
maui.hyatt.com/
Westin Kaanapali
www.westinmaui.com/
Home Rentals
http://www.vacation-maui.com/Homes.php