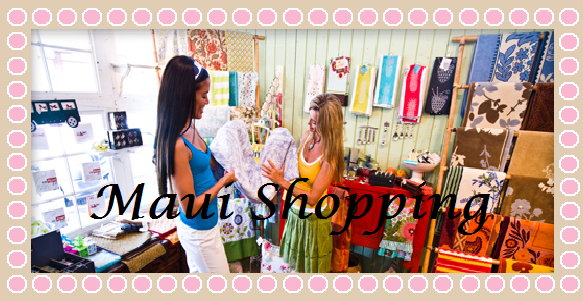 On Maui, shop to your heart's content. Spend the day browsing shopping destinations like Whaler's Village overlooking Kaanapali Beach, the upscale Shops of Wailea, or find made in Hawaii souvenirs at the shopping malls of Central Maui. From Lahaina to Hana, you'll discover island treasures in stores across the island.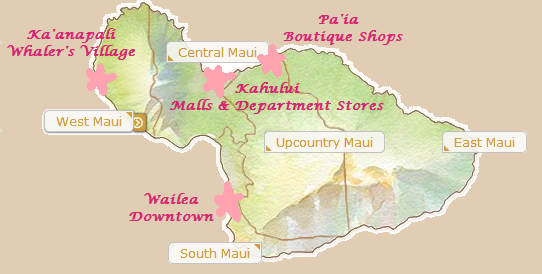 West Maui

Whalers Village, on Ka'anapali Beach, features more than 50 shops ranging from local favorites to designer boutiques, as well as fine restaurants, free entertainment and a whale museum. The museum recounts the history of Lahaina's whaling era from 1825 through 1860. A recently refurbished theater features continuously playing whale and ocean-themed movies. One of the movies follows whales as they migrate from Alaska to the Hawaiian Islands and contains some spectacular footage from birthing to adulthood. Admission is free. Lahaina is wall-to-wall shopping, galleries, restaurants and entertainment in a colorful oceanfront setting that is reminiscent of its days as a rowdy whaling port.

A popular stop in the Lahaina Center is Hilo Hattie, a store known throughout the Islands. You'll be greeted with a free shell lei and refreshments as you set out to browse through a huge collection-the world's largest-of Hawaiian and resort fashions. The Lahaina Cannery Mall, open daily from 9:30 a.m. to 9 p.m., is Maui's only fully enclosed, air-conditioned shopping complex. There are more than 50 shops, an international food court and ample free parking in the mall. Keiki hula shows are featured Saturday and Sunday at 1 p.m. and Polynesian dancers appear Tuesday and Thursday at 7 p.m. Hawaiian entertainment, cultural events and festivals are featured monthly throughout the year.
Wailea offers a diverse selection of shopping options ranging from boutique shops to the upscale stores including Luxury boutiques such as Gucci, Fendi, Cos Bar, and Tiffany & Co. have shops, as do less-expensive chains like Gap, Guess, and Tommy Bahama's. Several good restaurants face the ocean, and regular Wednesday-night events include live entertainment, art exhibits, and fashion shows. "The Shops" is a stylish, upscale, mall close to most of the resorts located at 3750 Wailea Alanui Dr., Wailea, HI, 96753. http://www.shopsatwailea.com/

There is also the Wailea Shopping Village, located near Maui's famed Wailea Resort, has art galleries, jewelry, photography supplies, clothing shops and restaurants. You'll find treasures from internationally renowned designers like Tiffany & Co. and Louis Vuitton to local artisans by leading artists from Maui. There is also a free Polynesian show every Tuesday afternoon.

Some of the luxury shops are Betsy Johnson, Bottega Veneta, Cache, Coach, Cos Bar, Vendi, Gucci, Guess, St. John Boutique and Tori Richard. When searching for fashion and casual clothing, some of the favorites are Banana Republic, Billabong, Chico's, Crazy Shirts, Enchantress Boutiques, Gap, Honolua Wahine, Maui Water Wear, Quicksilver, Sgt. Leisure, Sisters & Co. Boutique Salon, The Walking Company and White House/ Black Market.
Central Maui

When it comes to shopping in Central Maui, the most popular place is Kahului. Here is where you will find the large mall, Queen Ka'ahumanu Mall, which is located on Highway 32. You will be able to enjoy all the large department stores you normally shop in while checking out some of the local businesses that offer gifts and clothing made on the islands.
This is not the only shopping experience you will find on Highway 32 as the Maui Mall is also found here with many unique shops for you to enjoy where you can enjoy a type of homemade sherbet type treat, Guri Guri that you can find at Tasaka's. At Crystal Dreams, you may love the awesome glass bottles that you see and purchase.

Flea Markets or Swap Meets can be loads of fun and the biggest swap meet in Maui is in Kahului. It is only open on Saturday from 7 am until noon, so you had better get there early if you wish to find such things as fresh fruits, coffees, baked items, t-shirts, and other handmade items from local residents. For parking, your best bet is to park off Kamehameha and Puunene streets.

You can also find such departments stores as Costco, Kmart, and Wal-Mart in Kahului as well. Costco and Kmart can be found at highway 380 and Dairy Road. Wal-Mart is behind the Maui market place. For cheap items such as food, film, sunblock, and clothing, you should visit one of these instead of shopping at the local stores for these items or you will be paying more.

Another great place to shop in Central Maui is in the town of Pa'ia. This is the place for anyone searching for items out of the ordinary and very unique. In Pai'ia, you can find very unusual shops such as one that sells items made from hemp. There are two unique bead shops to find all kinds of jewelry to take back home as gifts. Not only are these shops you unique but you may enjoy beer from the Wine Corner, which is unlike beer you can find elsewhere. The Pa'ia Trading Company is another great resource for finding exquisite items to take back home for yourself or as gifts to family members you left behind. Other popular shops in Pa'ia include Island People, Big Bugga Sportswear, and Moonbow Tropics.