The best way to travel Maui is by the way of the mile marker. All along Maui roads, there are conveniently placed mile markers to help guide visitors navigate and locate main attractions across the island. The map notates several mile markers at intervals along the coast. Below, there are several beaches, places to snorkel, and landmarks that might be of interest. Please reference their associated mile markers to help guide the way.
(Beyond mile marker 40 is no man's land and very bumpy!)
Note: Some places may come before or after a mile marker it depends on which direction you originate from. Keep in mind that they are estimates and your best bet is to notice where cars are pulled off the road in groups. Usually there is something cool there to see or do.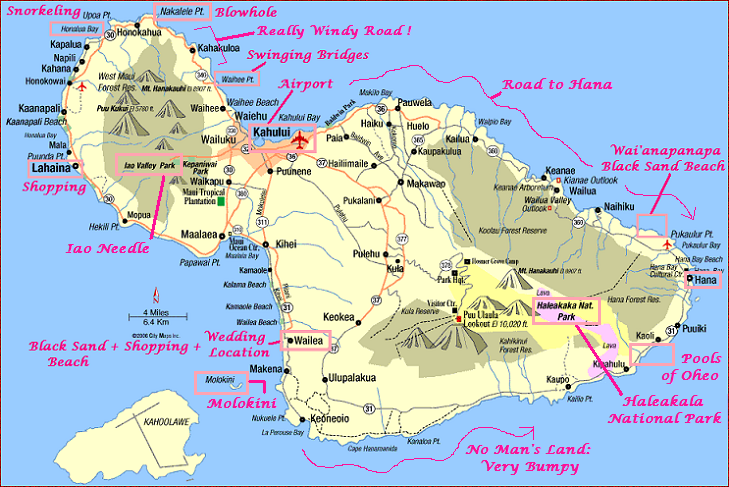 ROAD TO HANA (mile marker 16 and on): The famous Road to Hana is perhaps the curviest in the world, with approximately 600 twists and turns along 52 miles of narrow, mostly one-lane road that crosses 52 bridges and is often right on the edge of shear cliffs dropping several stories into the ocean. There is a ton to see including waterfalls, bamboo forests, botanical garndens, and trails. There are not too many places to stop for food, so either pack munchies to go, or stop when you see a place that is open. Note that after mile marker 16, the mile markers starts back at 0. Read more at the Frommers web page.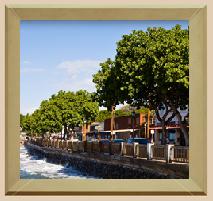 LAHAINA: Once known as Lele, which means "relentless sun" in Hawaiian, Lahaina is a historic town that has been transformed into a Maui hot spot with dozens of art galleries and a variety of unique shops and restaurants. Once the capital of the Hawaiian Kingdom in the early nineteenth century, Lahaina was also a historic whaling village during the whaling boom of the mid-1800's. Up to 1,500 sailors from as many as 400 ships took leave in Lahaina including Herman Melville, who immortalized the era in his classic novel Moby Dick.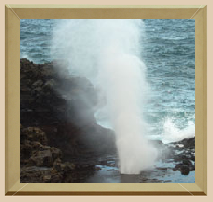 NAKALELE BLOWHOLE (mile marker 38):Nakalele Blowhole is the result of the ocean wearing away the shore below the lava shelf. With each wave, water is forced through a hole in the lava shelf resulting in the "eruption" of water similar to a geyser. The "blowing" of the water varies dramatically depending on tide levels and wave action. High tide and strong surf result in the best effects. The blowhole can be seen from the road when the wave action is right or you can hike down to the area - just don't get too close! The trail to the blowhole is located ½ mile past Mile Marker #38 and is marked by a dirt pullout along the side of the road.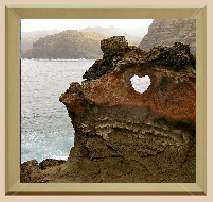 LOVE ROCK at NAKALELE BLOWHOLE (mile marker 38): The love rock (heart shape in rock) is to the right of the blowhole near the cliff (when facing the blowhole).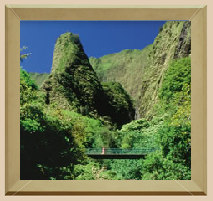 IAO NEEDLE: Towering emerald peaks guard the lush valley floor of Iao Valley State Park. Located in Central Maui just west of Wailuku, this peaceful 4,000-acre, 10-mile long park is home to one of Maui's most recognizable landmarks, the 1,200-foot Iao Needle. This iconic green-mantled rock outcropping overlooks Iao stream and is an ideal attraction for easy hiking and sightseeing. Take Highway 32 (Kaahumanu Road) west out of Wailuku. This road turns into Highway 320 which lead directly to the 'Iao Valley State Park.Park gates open from 7am to 7pm. $1 for walk-ins, $5 for cars.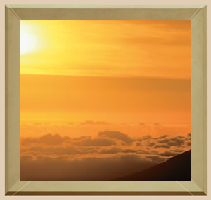 HALEAKALA: Stretching across Maui's southern and eastern coastline, Haleakala National Park is home to Maui's highest peak. Rising 10,023 feet above sea level, Haleakala's graceful slopes can be seen from just about any point on the island. Haleakala means "house of the sun" in Hawaiian. You can travel atop the highest peaks of Haleakala, hiking above the clouds and horseback riding across otherworldly deserts.Many visitors and locals wake up early to drive up to the Haleakala Visitor Center (9,740 feet), the best spot to watch the sunrise. There are numerous hiking trails that offer solitude and scenic vistas, while guided hikes provide an expert's guidance and insight.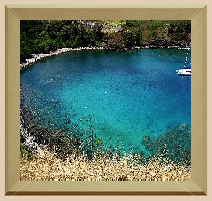 HONOLUA BAY (between mile marker 32 and 33): Amazing snorkeling that is best in the morning! After a short walk through a beautiful jungle and past some ferile cats you'll come to the shore. There's no real beach here, just a lot of rocks, but that doesn't mean that this is not a great place to swim. The snorkeling and scuba diving here are excellent especially near the cliff faces (right and left, about 200 yards out). You'll need to be careful crossing the rocks and entering the water, it can be slipry.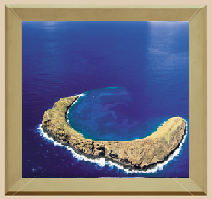 MOLOKINI: Molokini is a small, crescent moon-shaped island that is a State Marine Life and Bird Conservation District. Lying only three miles from Maui's southwestern coast, Molokini spans over 18 acres and rises 160 feet above reef-filled waters, offering visitors snorkeling and diving amongst a kaleidoscope of coral and more than 250 species of tropical fish. Tours are available from nearby Maalaea Harbor and Lahaina. Early morning is the best time of day to explore this pristine reserve.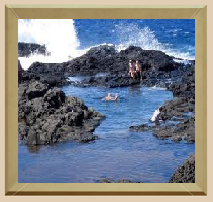 OLIVINE TIDE POOLS (mile marker 16): Only about 15 minutes from the car. The Tide Pools are a fun place to hang out for a couple of hours. Kids are fine here and they should bring swim wear as one of the pools is 7-12 feet deep and 12 feet by 20 feet with fish and other ocean life.There is a small gravel road on the left. Park and walk toward the ocean. A rock platform overlooks the pools. To the left of this overlook is a lava bench and a trail leading down to it and the lava shelf.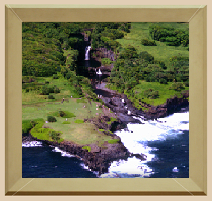 POOLS OF OHEO AKA SEVEN SACRED POOLS (mile marker 42): Just 15 minutes south of Hana on Highway 31 on the lower slopes of Haleakala are the famous Pools of Oheo in Oheo Gulch. Here you'll discover beautifully tiered, swimmable pools fed by waterfalls. Take a dip in these tranquil pools fed by streams starting two miles inland. Here in the Kipahulu area of Haleakala National Park, you can take a nature walk tour guided by park rangers. You can also explore the many self-guided hiking trails on your own through forests of bamboo, past roaring cascades and into the green heart of the island. There is a $10.00 fee per car to enter the park.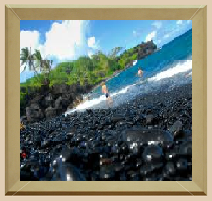 WAIANAPANAPA BLACK SAND BEACH (mile marker 32):Waianapanapa Beach is situated in the midst of the vast and beautiful 120-acre Waianapanapa State Park. Situated among black lava cliffs and framed by tropical flora, Waianapanapa Beach provides dramatic contrasts and colorful surroundings. Visitors love to visit the Waiomao caves, a pair of unique lava tubes filled with pure blue and green seawater. Check out the neighboring beach of Honokalani and experience the wondrous sight of a naturally curving sea arch. Directions: It's about a 3 hour drive along the Hana Highway from Kahului airport. Note: Waianapanapa Road is also known as Honokalani Road.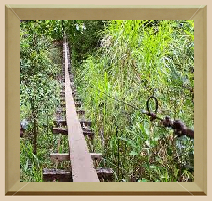 SWINGING BRIDGES (mile marker 5): If you're looking for things to do on Maui, the Waihee Valley Trail, also known as the Swinging Bridges Trail, is a hike with something for everyone. After an initial, gradual 300-ft climb the trail levels out and winds gently through a rain forest, passing by bamboo, banyan trees, ginger and avocado. It follows the Waihe'e River upstream, at times running parallel to hundred year old irrigation canals made by Chinese immigrants. Directions: Turn onto Waihee Valley Road, just before the mile marker 5. There is a small parking lot on the right, among the houses, just before you reach the end of the pavement. The trail head is at the end of the road. There is a $6 entrance fee.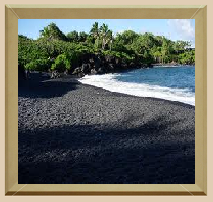 ONE'ULI BLACK SAND BEACH: This Black Sand Beach is just a short drive south of Kihei and Wailea. This beach is a lot larger than the Waianapanapa Beach and is better for laying out. Follow Wailea Alanui Road until it turns into Makena Alanui Road and then take a right onto a dirt drive just past the Maui Prince Hotel. Follow this bumpy path until you reach the beach and a few parking spaces. Due to its unassuming entranceway, you'll usually find the beach free of crowds. Note: Beware of fire ants that reside along the rocks!


Suggested Travel Books:
Maui - Mile by Mile by: John Derrick, Natasha A Derrick
Offers a great mile by mile description of Maui and what to find at several mile markers.

Maui Revealed by: Andrew Doughty, Harriett Friedman
Introduces Hawaiian history and culture, and evaluates places to see, amusements, outdoor activities, restaurants, and accomodations on the island of Maui.
Suggested Website:
http://www.hawaii-guide.com/maui